Sights & Sounds by FABA: Stone Town
Located on the coast of East Africa, jutting out into the Indian Ocean, the Stone Town of Zanzibar has been described as a living historical town. Its urban fabric and architecture reflect its culture, which has brought together Swahili, African, Arabic, Indian and European influences for over a millennium. Experience Stone Town, Zanizibar.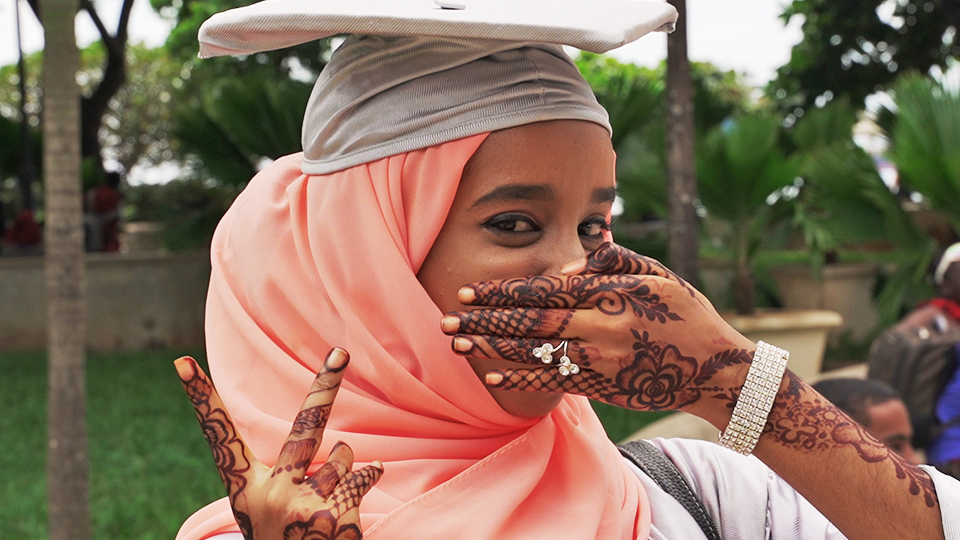 Filmmakers April and Tierney Walker explored this UNESCO World Heritage sight and captured its magic through their lens, creating the second installment in the new video series 'Sights & Sounds' from the media platform For Africans by Africans (FABA) in a film called Sights & Sounds: Stone Town, Intro Africa caught up with the filmmakers.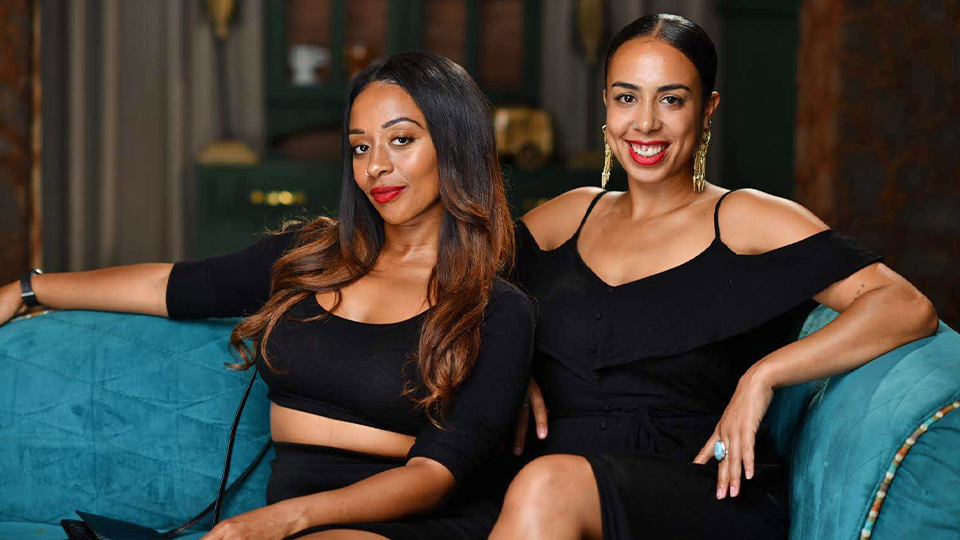 IA: What inspired you to create this film?
A & T: Stone Town has a charm, it is peaceful, but full of energy. The people are as warm as the weather. Stone Town radiates Arabic swahilli culture and traditions, just walking through the winding streets you experience hundreds of years of history and cultural influences that have made it so beautiful and unique.
We've had some of the best experiences making films in Africa. We often tell stories of our adventures, especially our experiences as women travelling on our own, the first question we are often asked is how safe it is, when this is not a question we would be asked when travelling to places like Europe, this is one of our biggest frustrations, people's perception, we feel that Africa has been misrepresented especially through the western lens and the reality of what it's really like is so different from how it is perceived.
Stone Town is a beautiful gem that exemplifies the beauty of East Africa. We have travelled to many places around the world but Stone Town has an energy like no other, that's why capturing it for Sights & Sounds was the perfect way to showcase this.
The cultural heart of Zanzibar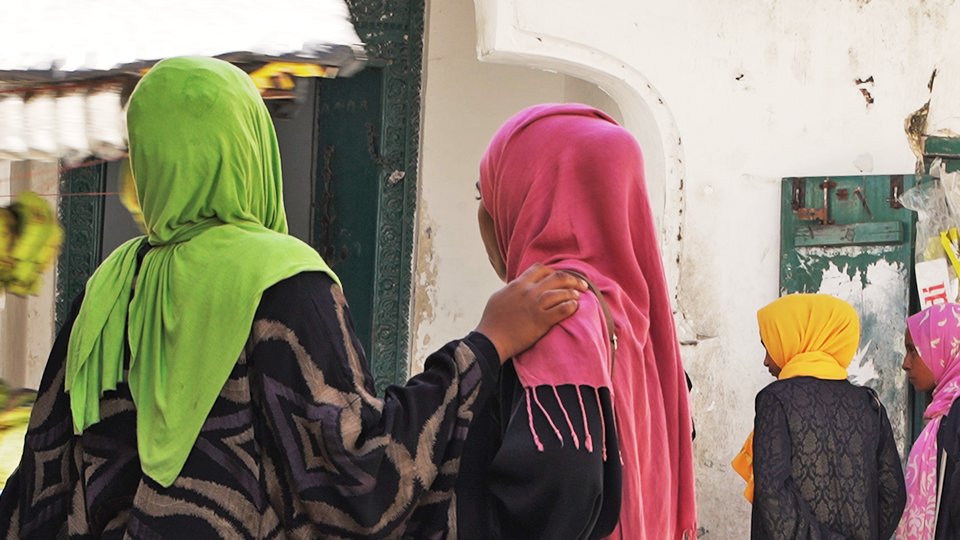 IA: Where is Stone Town and what is its significance?
A & T: Stone Town is referred to by locals as Mji Mkongwe, meaning "Old Town" in Swahili. Its architecture dates back to the 19th century. Stone Town is the historical, cultural heart of Zanzibar, Tanzania.
IA: How would you describe Stone Town?
A & T: For such a small town Stone Town packs so much character, it's so picturesque; surrounded by stunning beaches, where local boys make the most of the high tides and jump freely into the open water, along with the liveliness which continues into the night with the popular Forodhani street food night market, where you can experience the islands flavours, both locals and tourists sit and eat at the waterfront.
We absolutely love the night time vibe, dancing to the sounds of Zanzibar after sunset at one of the local jazz or tarab music events. On top of that it has a really peaceful and safe feeling. It's a place we felt really comfortable walking everywhere, making friends with locals. It depends a lot on tourism so it is catered towards that which you can notice, but this doesn't take away from its charm. It's just beautiful.
The People of Stone Town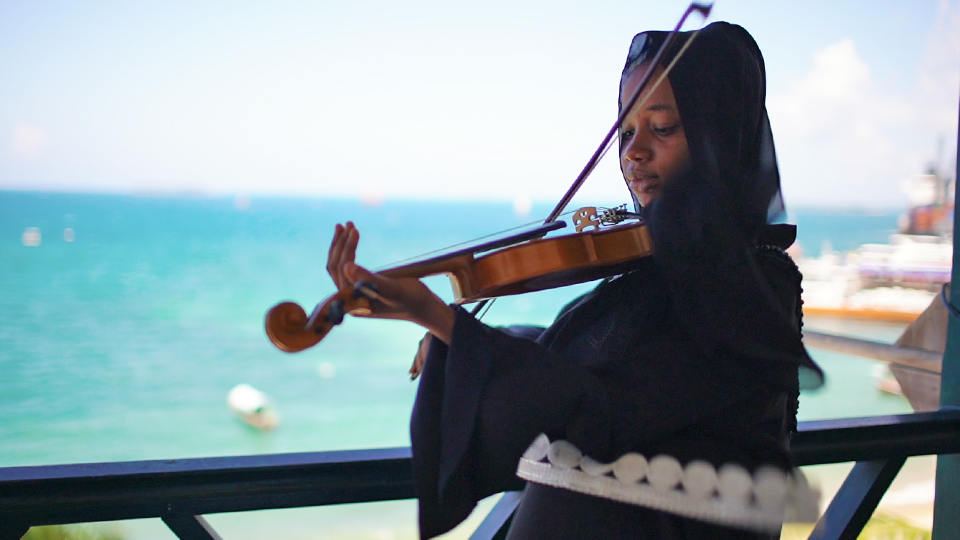 IA: Can you tell us about the people?
A & T: In Stone Town the people are so friendly and welcoming and that really adds to the magic of the film. I think it's reflective of the peacefulness of the town, people aren't in a rush, there is a real sense of community, you often meet the same people walking through the streets and on the beaches, everyone's willing to help you out or speak with you. It's the people of Stone Town that really make it what it is.
AI: Which cultural textures/layers did you experience from Stone Town which are most memorable for you?
A & T: You can't go to Stone Town without going to the waterfront at sunset, when the tide is high the people gather around to watch the local boys entertain crowds as they backflip, dance and jump off the pier into the Ocean.
At night, the unique cultural musical experiences. The live music nights, the talented jazz bands and the traditional Taarab music, which is truly special.
IA: What surprised you?
A & T: The feeling of peace, how calming it is in Stone Town. If you need an escape from city life, this is definitely a great place to find balance.
Siti and the Band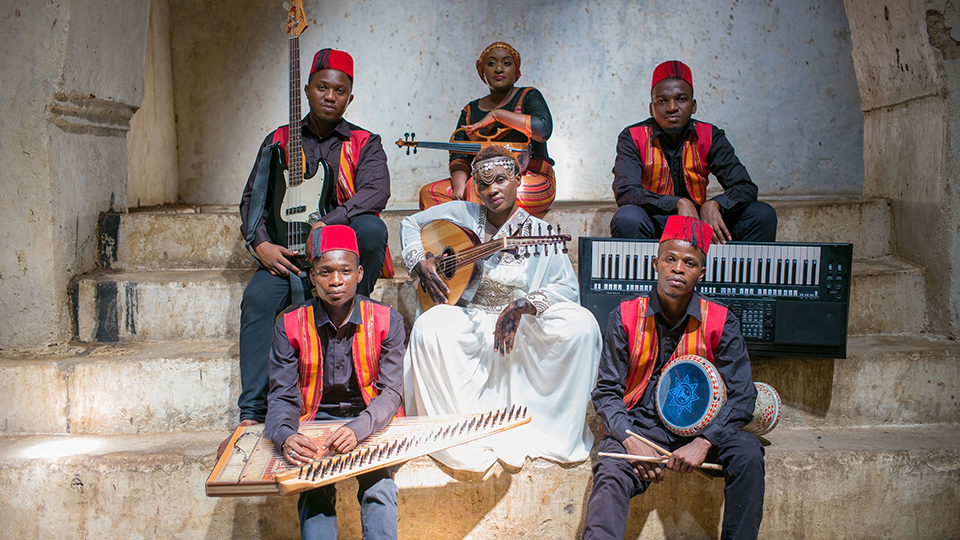 IA: Can you tell us about your use of music and sound in this film?
A & T: The music in the film is from a local band, Siti and the Band, their music is a fusion of styles but predominantly influenced by Taarab, which is traditional music that originally came from the Middle East and once it reached Zanzibar took on African and Indian influences.
We knew we wanted to feature music that was local to Zanzibar, especially as it has such an important role in the character of the town, there are lots of amazing live music nights in Stone Town, from Taarab to jazz and other traditional styles. We visited Dhow Countries Music Academy, which features in the video and is dedicated to teaching young people and keeping their traditional music styles alive, including Taarab and more.
A & T: Sound of course plays a big part in the Sights & Sounds series from FABA, so it was important for us to capture this, and whilst Stone Town is a peaceful town, there is definitely a liveliness and vibrancy to it which was fun to capture from the young boys jumping into the sea to the prayers calls ringing throughout the town.
The power of film and storytelling
IA: Why film?
A & T: We believe in the power of film and storytelling to widen perspectives, understand, appreciate and learn about people and worlds beyond their everyday experiences. Film has always been an important part of our lives, even before we started making them, we have both grown up loving films, with a special connection to foreign films that introduced us to worlds far away from home, teaching us about different cultures, traditions and opening our eyes to diverse stories around the world.
We both feel that films have played an instrumental role in changing our own perspectives, aside from this we feel that making films is our purpose. When we are making films we are full of life, a special feeling that confirms that this is what we are supposed to be doing.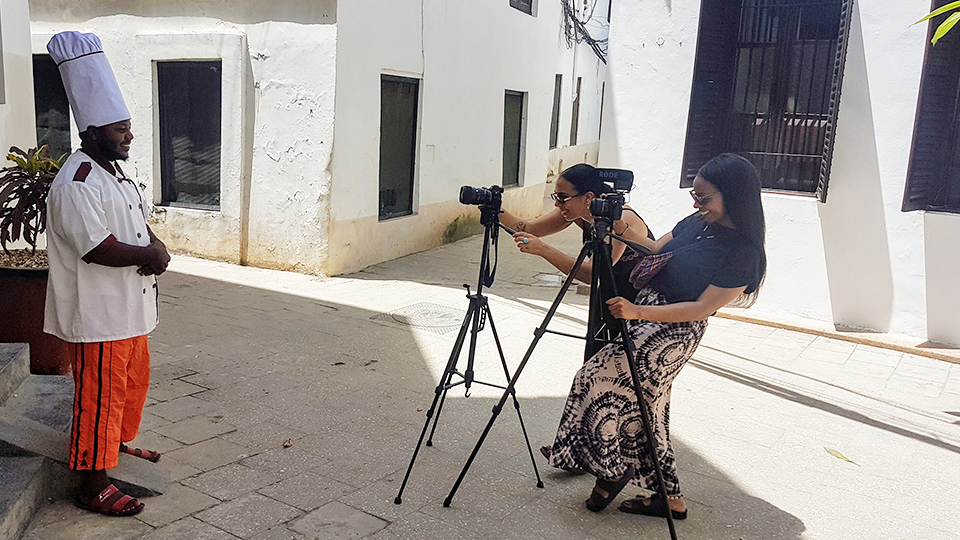 IA: If not a filmmaker, what would you be?
Tierney: My other love is music, listening to it, sharing it, curating playlists, discovering new artists, so maybe a career in the music industry, over the covid period I have started to teach myself to DJ so who knows where that could lead.
April: If I weren't making films, I would be working on creating a creative event space on a beach somewhere in Africa, with a small patch of land where I could grow food. A place for the locals, but also a safe place for people around the world to visit and enjoy the true essence of Africa through music, dance and arts ( P.s – Tierney would be the resident DJ) – Watch this space!
FABA and the Sights & Sounds Series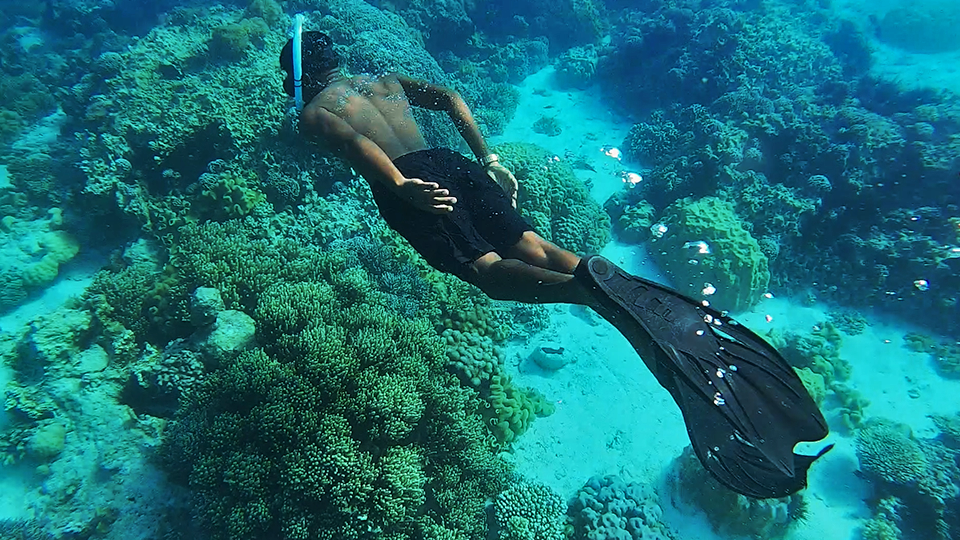 IA: Tell us about your collaboration with FABA.
A & T: Our collaboration with FABA has been a great experience. We love the FABA platform and are deeply connected to their vision. Chika ' the mother of FABA' is amazing and we share many of the same views and are also committed to their contribution towards sharing positive images and stories from Africa. She is an inspiring powerful woman and it is amazing to work with a platform that supports female creatives.
Experience Stone Town Zanizibar