Premium knitwear that celebrates traditional Xhosa aesthetics
MAXHOSA AFRICA is a South African knitwear brand founded in 2012 by Laduma Ngxokolo. This was with desire to explore design solutions that would be suitable for Amakrwala (Xhosa initiates). His initial vision was to create a modern Xhosa inspired knitwear collection that would be suitable for this market. As a person who has undergone the process, Laduma felt that he had to develop premium knitwear that celebrates traditional Xhosa aesthetics.
Those philosophies are not documented, as the youth we have to research and actually document all those philosophies in various ways, I choose to do it with my fashion, of which is quite a dominant way to go about it.

Laduma Ngxokolo
We have something to actually carry as the youth for the future generations so that when they trace their history and be able to find where they began as a people because i believe that no one actually establishes from nowhere, that we all have roots that we start from.

Laduma Ngxokolo
The brand MAXHOSA AFRICA
Laduma Ngxokolo is one of Africa's finest knitwear designer & innovator of the Xhosa (one of the South African dominant ethnic group) inspired knitwear brand MAXHOSA AFRICA. Ngxokolo established the brand 2011 with a desire to explore knitwear design solutions that would be suitable for the amakrwala (Xhosa initiates) traditional dress.
As a person who has undergone the ritual, he felt that he needed to develop a premium knitwear range that celebrates traditional Xhosa beadwork aesthetics, Xhosa inspired knitwear using South African mohair and wool. Since then, Ngxokolo has received numerous achievements and captures the hearts of many fashion lovers and media from South Africa, London, Paris, Amsterdam, Oslo, Berlin and New York.
Ngxokolo recently won the 2015 Vogue Italia Scouting for Africa prize to showcase his collections at the Palazzo Morando Show in Milan, Italy. Furthermore, Ngxokolo was awarded the 2014 WeTransfer Scholarship to study masters in Material Futures at the Central St. Martins and graduated in 2016. New African Magazine named him one of the 100 Most Influential Africans of 2017.
Through his work with Xhosa inspired knitwear, Laduma is an agent of change, shifting and evolving with the changing times and further engaging in the dialogue that keeps pushing traditional culture toward the future.
Intro Africa had a chat with designer Laduma Ngxokolo
about his Xhosa inspired knitwear
IA: Your brand ethos is rooted in culture, identity and heritage, can you tell us what inspires the shapes and patterns in your designs?
LN: The inspiration came from Xhosa beadworks, the culture, the heritage as well as shapes. The process start from looking at the ancient beadworks patterns. They are geometric in shape, this inspire the designs.
IA: What inspires the colours?
LN: The brand colours have morphed into ten core colours, but the colourways were also inspired by the Xhosa beadwork, as they represented something more meaningful. Within the Xhosa culture, each subtribe it had its own colourway and DNA which represented them. They are very bright and some are bold. I chose to look at these colours as the core inspiration.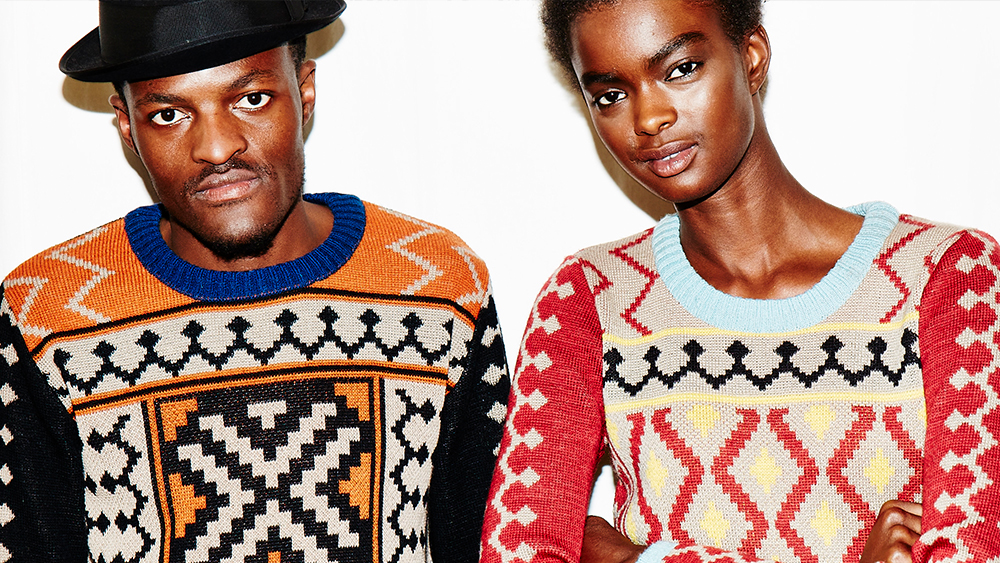 Why work with knitwear?
IA: Why knitwear?
LN: Knitwear is found everywhere, it also represented a certain symbolism in the Xhosa culture, as Xhosa initiates have to wear new items upon coming from initiation school. Knitwear is part of the clothes they wear. Knitwear is also a key item in many people's wardrobes, it helps them keep warm in winter, and also can be breathable fabric and fibers for summer.
IA: Can you tell us what inspired your first silhouettes, the cardigans?
LN: The cardigans have been a consistent item in fashion for years, more specifically menswear. I started with menswear in creating the knits. In knitting the cardigans were the one item that came out proper in the prototyping. Also I learnt to knit a cardigans as my first item to knit in the machine. It then became an organic transition.
IA: What does Maxhosa represent to you in the context of South Africa and what is the message behind the brand?
LN: The message behind the brand, is to celebrate culture, the language, heritage and beauty of the Xhosa people. It now has been inspired by more cultures within the continent, it now means that we represent African luxury.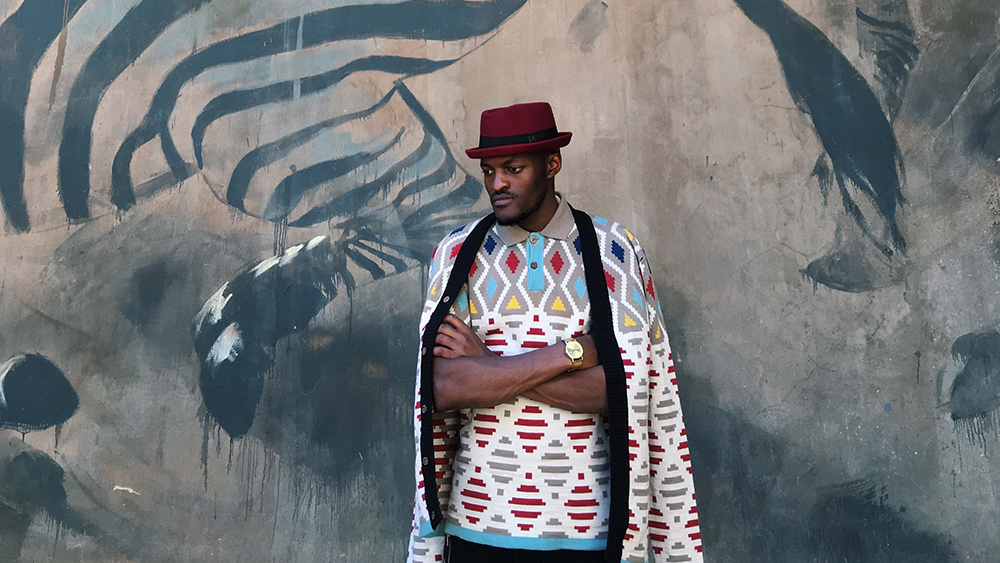 A Global brand
IA: You have built a strong local brand and a global brand that celebrates local heritage- Why do you think Maxhosa has been embraced and resonates globally?
LN: Because we have an authentic story that represented a culture within the South African context. It now has been inspired by more cultures within the continent, it now means that we represent African luxury. That is why the world gravitates towards the brand, it is in the quality and the story.
IA: You have your own factory and atelier, and the majority of your production comes from South and Southern Africa, what is behind this choice, given the potential options for sourcing cheaper labour elsewhere?
LN: To help tell our own story and built our own dynasty, the best raw materials for what we sourcing majorly comes from Southern Africa. It then was a no brainer to produce from home. As expensive as the benture was, it is about the quality as we make no items from synthetic fibers. The biggest push was to retain jobs locally and also contribute to the country.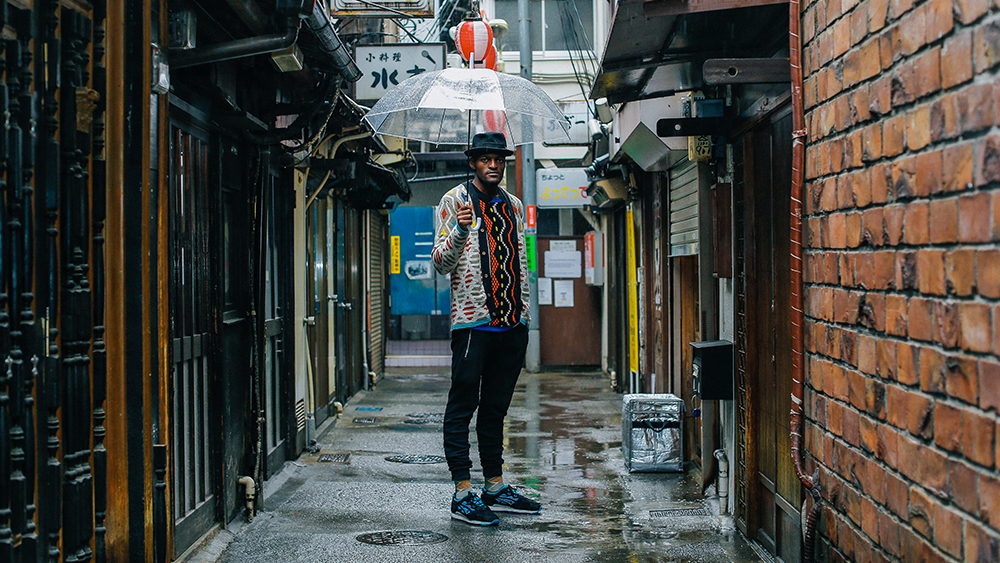 IA: What are the main challenges facing designers in South Africa and potentially in Africa today? And how have you personally dealt with the main challenges?
LN: The business of fashion is the key thing that is seen as not easy, as many designers are talented. But there are barriers to entry with owning your own production, as well as distribution. I had the opportunity to have many mentors along the way, who assisted in growing my business acumen. Also the education helped as I empowered myself by studies.
IA: What potential role do you think the fashion industry can play in creating employment and fighting poverty?
LN: Fashion can dramatically shift the paradigm in alleviating poverty, as it is a trillion dollar industry. It starts small and grows, when more and more designers own their own facilities and production plants, they can hire more skilled people. This then adds to the ensuring job creation.
Fashion and sustainability
IA: What are your thoughts on sustainability in the fashion industry?
LN: More and more designers are learning to create using sustainable means, it is a core principle that needs to be adhered to. Fashion can be a very high waste industry, thus it needs to be reduced. Designers are looking at more creative means to help with sustanibality, through sourcing sustainable fibres to also repursposing waste materials and creating garments with them.
IA: What do you think Africa can offer in terms of design and inspiration?
LN: Africa is the mecca of design, as the way of living is design thinking. It is also very easy to find inspiration through everyday life. By looking at an immediate solution for a problem can be great design inspiration.
IA: You have a seemingly unexpected location planned for your biggest flagship, a museum with historical Xhosa pieces. Why Port Elizabeth?
LN: Because it is home, it is where everything started. Also the city is rich with history, also it has the world's finest wool and mohair. It the became an easy decision to eventually move production there.
IA: There is a lot of focus globally on transparency in supply chains especially in the clothing manufacturing industry- how important do you think this is? And why?
LN: It is very crucial, as it assists knowing which part of the value chain has an issue, also when trying to give excellent service to clientele. They need their expectations managed, they would like to know where within the production chain their item is. So the transparency helps in giving realistic expectations.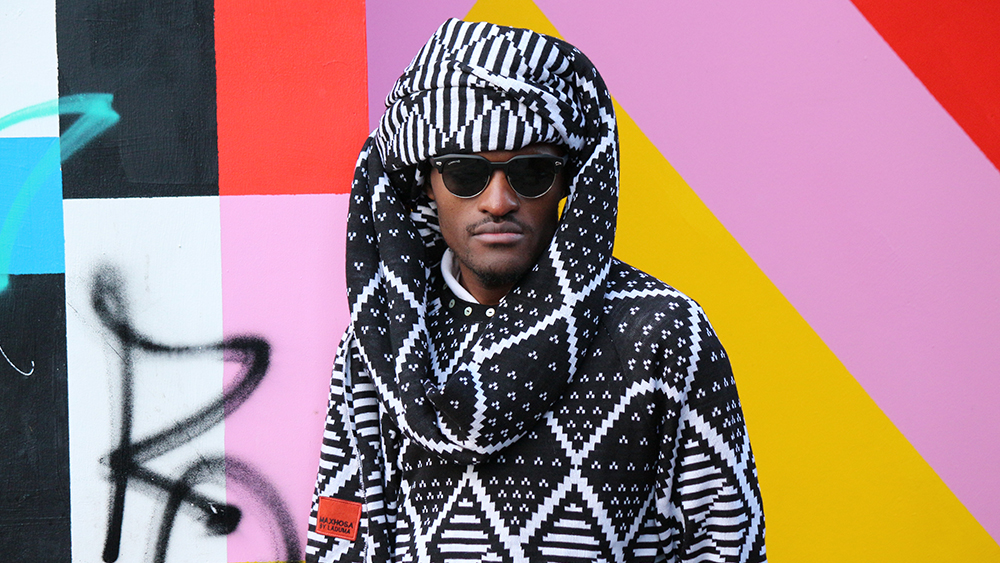 LN: Can you share with us your thoughts on sustainability in fashion?
IA: Sustainability is not just a keyword in fashion, it is a way of life. We as designers have to try at best to reduce the amount of waste that fashion produces in the world. Also the way in which we price and move towards slow fashions adds to showing clients a more sustainable way to consume our productions. We adopted a zero waste policy at our production facility and we ensure that we create with only sustainable fibers and authentic raw materials.
Maxhosa's 10 year anniversary
IA: At this Maxhosa's 10 year anniversary, what has been your main keys to success in building a successful global brand that continues to thrive and grow, in one of the most competitive and challenging industries in the world?
LN: One of the things that made me thrive in fashion which is a very competitive industry was reinvesting all my profits into the business. This made me grow faster and more sustainable, I also invested in the production facility to produce items inhouse. Also I invested into opening up two boutique store that sell our items. This got me to be in direct contact with our consumers.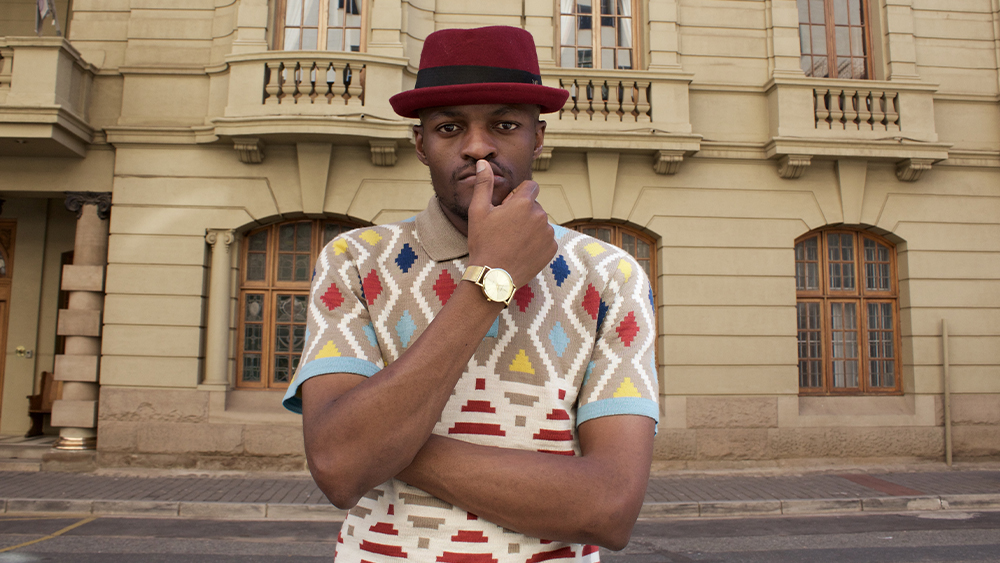 IA: 10 years on, what keeps you inspired?
LN: What has kept me inspired for the past 10 years was the fact that there is still a huge gap in the design space in the continent. This meant that as a business that is based in the solution and designing solutions for challenges in the industry. That keeps me inspired as there are now many way to approach issues and also seeing the many gaps to be filled.